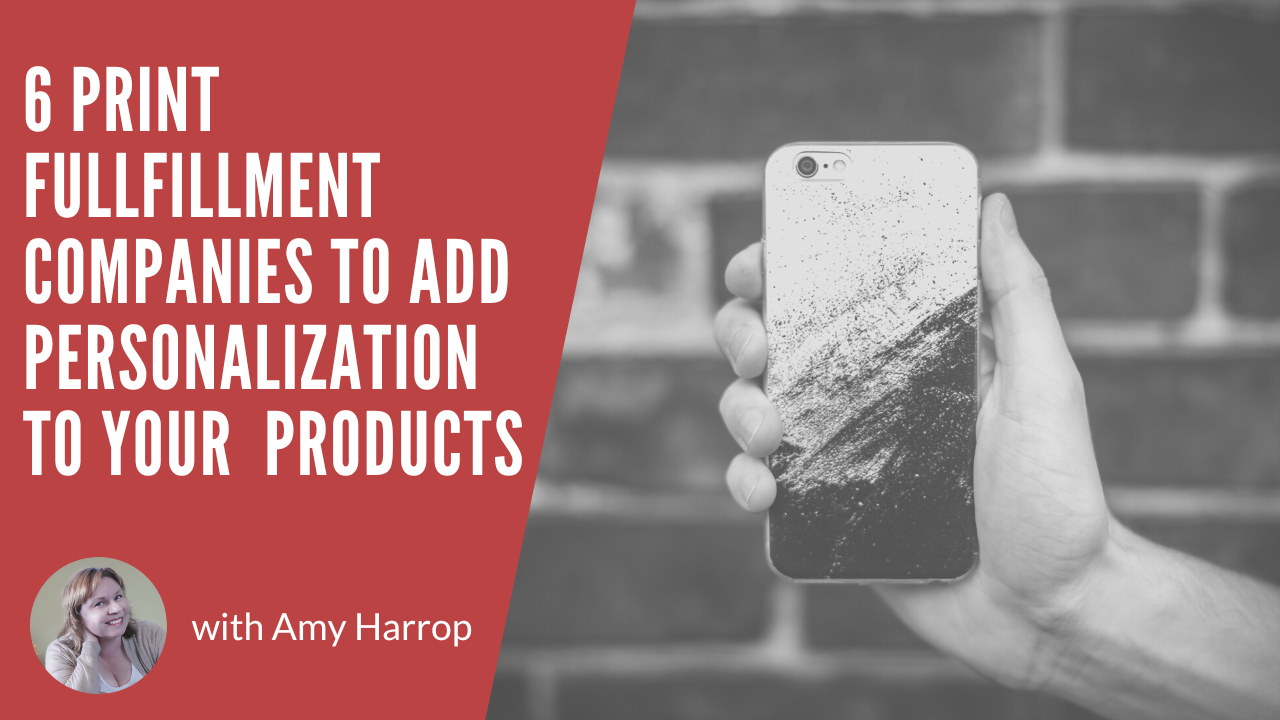 Online shoppers love personalized products. They make terrific gifts that recipients love. Let's face it – having your name on something makes it feel like the person who bought the gift put a lot of thought into it.
If you've never considered adding personalization to your POD products, now's the time to think about it. You may not realize that personalization doesn't require more work from you. All you need is a print fulfillment company that offers a wide range of products and integrates with your online store. With that in mind, here are 6 print fulfillment companies to consider.
#1: Printful
Printful is one of the biggest print fulfillment companies and it's popular for a reason. They have hundreds of quality products including apparel, accessories, and home décor. Here are some other features to keep in mind.
Integrates with Etsy, Shopify, Square, Amazon, and eBay.
Offers a generous four-week return policy for merchandise.
Has committed to making its products as sustainable as possible.
Allows sellers to set their own prices.
You should know that Printful is a subscription service, so you'll pay a monthly fee and then pay Printful's product fees on a per-product basis.
#2: Printify
Printify is a popular print fulfillment company that is a good choice for people who want to get started with personalization. There is a free account option that allows sellers to pay only for the products their customers order without a monthly fee.
Printify has more than 300 products, including clothing, tech accessories, and home décor.
Integrates with Etsy, Shopify, Wix, WooCommerce, and other online shops.
Offers robust merchant support and quality control.
Once you've established yourself as a seller of personalized products, you may choose to upgrade to a premium account for $24.99 per month. As a premium member, you can get up to a 20% discount on products to increase your profit margins.
#3: Merch by Amazon
Merch by Amazon is retail giant Amazon's POD service. Unlike most POD services, Merch by Amazon operates on a royalty basis. That means you'll get paid a percentage of the sale price for each product you sell.
Merch by Amazon sellers have their products listed on Amazon, giving them a huge SEO advantage.
Royalties are based on the sale price, and they range from 13.8% on the low end to 36.7% on the high end.
You will start at the lowest tier with a maximum of 10 products, and as your sales increase, you can add more products to Amazon.
The best part of Merch by Amazon is that you and your customers will get access to Amazon's massive fulfillment system and customer base.
#4: SPOD
SPOD is Shopify's print on demand supplier. They offer more than 150 products, including apparel, accessories, and wall art. Here are some key things you should know.
SPOD integrates with Shopify, Etsy, Amazon, Magento, and WooCommerce.
They offer 48-hour turnaround on all orders.
SPOD has committed to sustainability with its products.
SPOD works on a pay-per-product basis, so you'll pay only for what your customers order. They also offer top-notch customer support.
#5: Zazzle
Zazzle has a huge array of products, including some that other POD suppliers don't offer, such as cookware, invitations, and recipe binders. Sellers can choose to sell their products in Zazzle's marketplace or to sell them in another online store.
The Zazzle API allows for easy integration with Facebook and other online stores.
You can choose your own royalty rate – most sellers settle somewhere between 5% and 15%.
You can increase your income by becoming a Zazzle affiliate and linking to your products from your own website.
Zazzle is a great choice if you want to sell personalized paper products, since many of the other fulfillment services focus on apparel.
#6: Society6
Society6 offers hundreds of attractive products that can be personalized. Some of their more unusual choices include furniture, shower curtains, and Yoga mats, all of which can be personalized. You may also be interested to learn the following things.
Society6 offers a flat 10% royalty on all products you sell. (There are exceptions for fine art.)
You can earn an additional 10% by joining their affiliate program.
As a seller, you can access their impressive library of POD tutorials and guides to help you get started.
Society6 caters to artists who want to sell wall art. It's important to note that you can set higher prices for artwork, and thus earn higher royalties, than the 10% standard.
Tips for Choosing a POD Supplier for Personalization
The POD supplier you choose can have a big impact on the success of your shop and products. Let's talk about the things you should consider before you select a supplier.
Product range. Does the supplier offer a wide array of products?
Pricing. How much will you pay to have the supplier print your products?
Returns. How easy will it be for your customers to return products?
Integrations. Will the supplier integrate with your existing shop – or with the platform you want to use to sell your products if you're just getting started?
Customer & vendor support. How easy will it be for you (and your customers) to get help if something goes wrong?
Shipping. How much does shipping cost and how quickly will your customers receive their products?
Quality. Are the products good quality? (Pro tip: The best way to check for quality is to order samples. Most suppliers allow sellers to order samples at a discounted price.)
Personalization. What are the personalization options? How long do they take to fulfill?
Reviews. What do other sellers say about the supplier? Are they happy with their services and quality? We recommend checking TrustPilot to get a feel for any supplier that you're considering.
Selling personalized products can help you to increase your sales and profits – if you choose the right supplier. The 6 companies we've mentioned here are the best available and partnering with one of them can help you turn your products into bestsellers!
Do you need help getting your personalized POD shop off the ground? Click here to work with me!