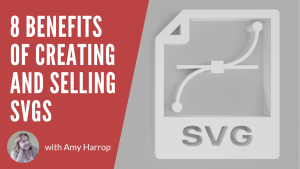 There are many creative ways to earn money online, but one of my favorites is to create and sell images. Images can be sold as electronic files for buyers to download and use in DIY and craft projects or they may be printed on demand on products ranging from t-shirts to cell phone cases. If you're wondering what image format is best, I recommend SVGs. 
SVG stands for Scalable Vector Graphics. Unlike other image formats, such as JPGs and PNGs, SVG files are vector files. That means that instead of an image being composed of pixels, SVGs are created using a mathematical formula on a grid. Each part of the image is described in relation to other parts of the image using points and lines. As a result, the SVG format eliminates many of the issues that may arise with pixel-based images. 
To help you understand why I like the SVG format, here are 8 benefits of creating and selling SVG images. 
#1: Images Won't Distort When Resized 
The first big benefit of creating and selling SVGs is that unlike pixel-based images, SVG images do not distort or lose clarity when they are resized. Using a mathematical formula eliminates pixelation and means you can sell SVG image files to be printed in any size the buyer desires. 
The lack of pixelation makes SVG files ideal for selling to crafters for home projects and for partnering with print on demand suppliers. A single SVG file can be printed on something as small as a keychain or as large as a shower curtain with exactly the same quality.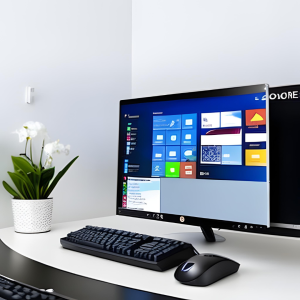 #2: No Specialized Equipment is Required 
There are some business models that require specialized equipment. Making and selling SVGs isn't one of them. In fact, you probably already have most of the tools you need and can get the rest for free. 
On the most basic level, all you need to create SVGs is a working computer, laptop, tablet, or even a smart phone, and reliable access to the internet. With those two things, you can get everything else you need, including free images to modify and sell as SVGs and free tools to create SVGs or convert other image types to SVGs. 
#3: You Don't Need Any Graphic Design Experience to Create SVGs 
Another thing you don't need to create SVGs is graphic design training or experience. You don't need to be able to draw a smiley face or a stick figure to create beautiful and compelling SVGs that your audience will love. 
Many of the tools I recommend, including Canva, have free options that provide tons of templates and design tools. You can use simple, drag-and-drop technology to create images or to modify existing images to make them your own. 
#4: SVGs Are Popular and There's a Built-In Audience for Them 
There's a huge built-in audience for SVGs because there are tons of people who enjoy doing DIY home improvement or craft projects that use digital images. If you search on Etsy or Google for SVG files, you'll see that many people are searching for images in this format because of their versatility. 
On Etsy, for example, a search for butterfly SVGs returned more than 61,000 results. You can be sure that there wouldn't be tens of thousands of products in just one category if there weren't a sizeable audience of people who are ready to pay for them. 
#5: You Can Make an SVG Once and Sell It Many Times 
One of the best things about SVGs is that they are digital products. Unlike a handmade product that requires ongoing work to keep up with demand, an SVG file can be created once and sold on an ongoing basis. 
Said another way, SVGs can provide a steady stream of passive income because after you create SVG products, they can stay in your online store forever and there's no limit on how many times you can sell them. Given how quick and easy they are to create, the profit potential is nearly limitless. 
#6: You Can Work from Anywhere 
Most of us have had, at some point in our lives, a job where we need to report to an office, store, or warehouse. We don't have the option of working from just anywhere. We need to be physically present to get the work done. 
If you create SVG files to sell, you can do your work from anywhere with a reliable web connection. That means you could be creating SVGs and responding to customer questions from your couch, your backyard, the beach, or a café in Paris. It's a completely portable business model.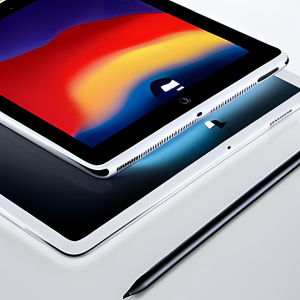 #7: There Are Little to No Startup or Overhead Expenses 
Starting a business can require significant spending, particularly if your business requires business premises, office machinery, software, and a payroll. There's a reason that so many small businesses fail: they can't sustain the cash flow they need to flourish. 
That's not the case with making SVGs. You don't need to spend any money to get started provided you have a reliable computer, laptop, or mobile device, and a working internet connection. You won't need to pay rent or utilities and you won't need to pay for storage to keep raw materials or inventory. In fact, the only storage you'll need is what's on your chosen device or in the cloud. 
#8: There Are Many Marketplaces to Sell SVGs 
I've already mentioned Etsy, but there are tons of places online where you can sell SVGs. Many creators choose to sell on multiple marketplaces because it allows them to maximize their reach. People who frequent one marketplace might not frequent another, so it makes sense to list your products in several places to make sure your target audience can find them. 
Some of the marketplaces to consider besides Etsy include: 
You should keep in mind that each of these marketplaces has its own rules regarding images and product listings. Many pay on a commission basis, so be sure you understand what you'll be earning as a creator and set your prices accordingly. 
Are You Ready to Create and Sell SVGs? 
Creating and selling SVGs is an easy way to earn money online and the 8 benefits I've listed here illustrate why I believe so strongly in this business model. 
Are you ready to create your first SVG? Click here to download Auto PD Prints Made Easy, my guide to using free images to create products you can sell!