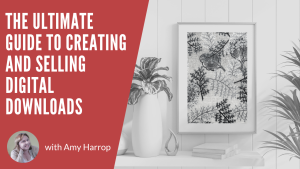 Digital downloads are some of the most popular products around. Sellers love them because they can be created once and sold many times. Buyers love them because they get instant delivery of the products they buy and often, they have the option of personalizing and editing the products to suit their individual needs. 
If you've wondered how difficult it is to create and sell digital downloads, you've come to the right place because it's one of my favorite things to teach people. With that in mind, here is your ultimate guide to creating and selling digital downloads. 
Step 1: Find the Right Tools 
Your first step is finding the right tools to create digital downloads. If you've been following my blog, you already know some of the tools I recommend. Here are a few of my favorites. 
PowerPoint

 

Adobe Creative Suite

 
There are many others available. I love Canva because they have a robust free version that will give you access to thousands of images, fonts, colors, and templates to use when you create products. It has easy drag-and-drop technology that you can use to create repeating patterns, invitations, party decorations, checklists, and more. 
Step 2: Choose a Niche 
Choosing the right niche is essential because you want there to be a decent-sized audience that's not so big that you can't compete with more established sellers. In the world of digital downloads, there are plenty of options. Some of my favorites include educational printables and seasonal printables. These are both big niches with a lot of potential customers. 
If you want to start with seasonal printables, for example, you should narrow your audience by picking a specific season or style. There's a sizeable audience for vintage Christmas printables and not every digital download shop has that style, so you can find the people who want vintage printables and leave the modern designs to other people. 
Step 3: Create Your First Product 
Creating your first digital product might seem like an intimidating task but it really shouldn't be. One of my favorite things about digital downloads is that the barrier to entry is so low. You don't need to be a trained graphic designer or an artist. All you need is access to the right tools (see above) and some images to get you started. 
There are tons of free images available online. Here are some places to look for images, fonts, and templates to create your products. 
These are just a few of my favorites. Before you use any image, make sure you understand the licensing requirements. Images in the public domain may be used without attribution. Some royalty free images may be used without attribution, but others require attribution and/or a link to the creator. Places like Creative Market typically sell different licenses and you'll need to read the fine print to make sure that you adhere to the requirements of the license you purchase. 
You should edit and alter images when allowed to make your products unique and memorable. Even something small like adding a color wash to a photo or changing a font can make a big difference. 
Step 4: Choose a Marketplace 
After you have created your first product (or several products), it's time to find a marketplace where you can sell your digital downloads. Here again, you have many choices. Here are some to consider. 
You should feel free to list your products in more than one marketplace to maximize your sales. 
Step 5: Create a Compelling Product Listing 
Creating a compelling product listing is your next step. You'll need to review the image requirements and product listing guidelines for whichever market you choose, but here are some general tips to help you. 
Highlight the benefits of your product

 

Price your product in accordance with what your competitors are doing

 

Create product categories to make sure people can find your digital downloads

 
Once you've got the perfect product listing, you can make your products live and wait for customers to find you. 
Step 6: Promote Your Shop and Make Your First Sale 
Your shop is live! What comes next? It's time to promote your shop to let people know about your products. You can start by sharing a link to your shop on social media. Sites like Instagram and Pinterest are ideal for digital downloads because they're image based and people who have accounts often buy products they see on their feeds. 
You may also want to pay for some ads by promoting Pins or Instagram posts or enrolling in Etsy ads. Be careful to use keywords that will help prospective customers find your shop. If you do a good job promoting your shop, it won't be long before you make your first sale. 
Step 7: Pamper Your Customers to Encourage Repeat Sales 
The final step is to pamper your customers to turn as many first-time buyers as possible into loyal, repeat customers. The steps above play an important role because if you do a good job setting up your shop and creating appealing products, you won't have difficulty making repeat sales. 
My biggest piece of advice is to make it difficult for customers to resist making another purchase. You can do that by providing stellar customer service and offering them a discount code for their next purchase. You may also want to consider collecting email addresses to set up a mailing list, which you can then use to stay in touch with customers, hype new products, and offer special deals to keep your subscribers coming back for more. 
As you can see, selling digital downloads isn't difficult. All you need is a laptop or tablet, some free tools and software, and this guide to get started. 
Do you need assistance creating and selling digital downloads? I'm here to help! Click here to check out all of my products!