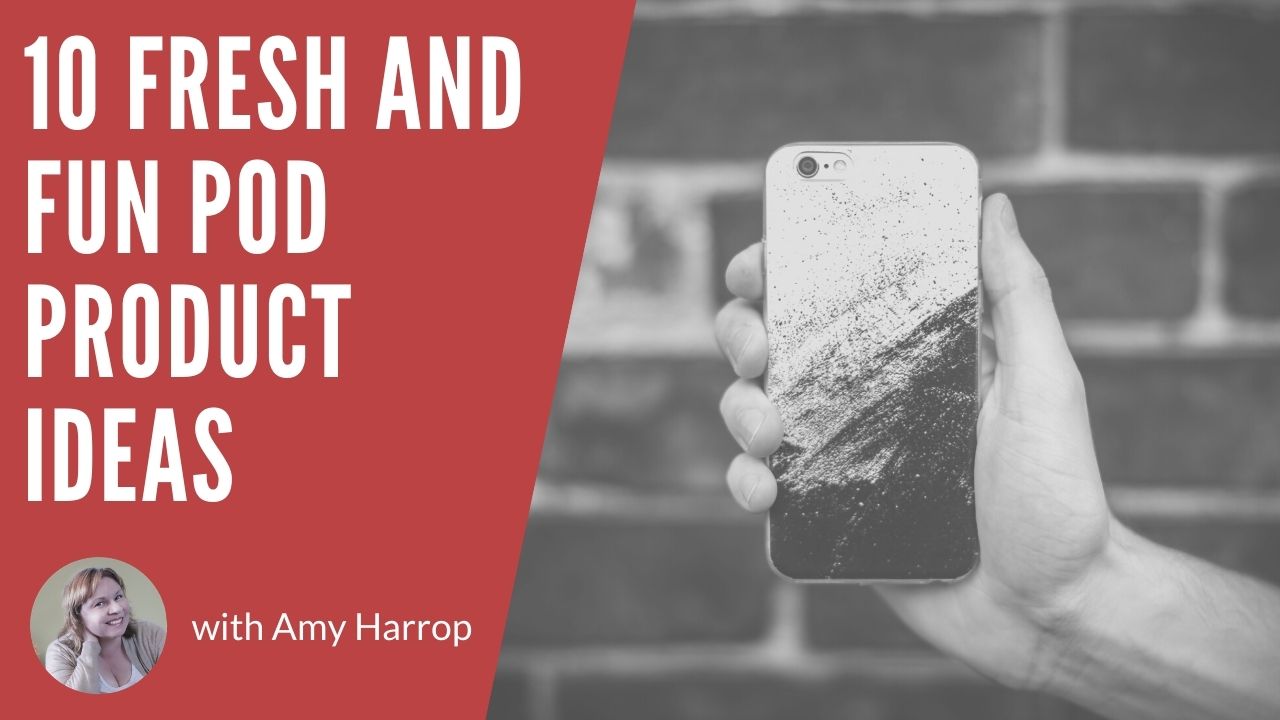 Making and selling print on demand products is one of my favorite ways to create income streams online. POD products don't require a huge up-front investment and you don't need to worry about storing products or even about shipping them, because your fulfillment company will take care of that for you.
You probably already know about a lot of POD products if you've browsed on Etsy or read my blog. There's still a big market for traditional POD products such as mugs and t-shirts, but wouldn't it be nice to expand your product offerings and earn more money by doing so? Here are 10 fresh and fun POD product ideas for you to consider.
#1: Dresses
We all know there's a market for POD tee-shirts, but there's no rule that you can't expand your offerings to something that qualifies as an entire ensemble by itself! Redbubble allows designers to sell their prints and artwork on two styles of dress: A-line and tee-shirt dresses.
The benefit of selling dresses is that they offer customers a way to add something unique and memorable to their wardrobes at an affordable price.
#2: Leggings
The same things that apply to selling POD dresses apply to leggings as well. If you're someone who designs unique graphic prints, then leggings are the perfect canvas to show them off. Leggings are hugely popular and can be used for everyday wear as well as for workouts.
Most of the leggings on Redbubble sell for about $40. That might seem like a lot for leggings but there's an audience for apparel that doesn't look like what everybody else is wearing.
#3: Hats
A lot of people wear hats regardless of the season. In the winter, they keep our heads warm and in the summer, they can shield us from the hot sun. There's a good market for POD hats if you know where to sell them.
Spreadshirt sells POD hats in a variety of styles including baseball caps, trucker caps, beanies, and bucket hats. Keep in mind that hat designs are more like logos and less like patterns, whereas patterns can work on dresses and leggings.
#4: Phone Cases
96% of adults in the US own a smartphone and they all need a way to protect their devices from being broken or damaged in a fall. For that reason, it makes sense to sell POD phone cases.
On Redbubble, you can put your designs on iPhone sleeves, skins, and wallets. As of this writing, they do not have cases for Android phones, but you can find those on TeePublic. On a related note, you might also consider selling tablet sleeves and laptop sleeves with your designs on them.
#5: Pillowcases
One of the easiest ways to give your living room or bedroom a new look is to buy new pillowcases for your throw pillows. It's less expensive than buying new inserts and it's possible to dramatically change your décor for a low price.
POD pillowcases are a great way to market your designs, particularly if you have a knack for designing cool patterns. You can upload your designs to Redbubble. If you want to expand your offerings, you can also put your patterns on bedsheets and regular pillowcases.
#6: Pet Accessories
People love their pets and they're happy to spend money on pet accessories that are unique. POD pet accessories can help you expand your offerings to a new market.
Consider adding your designs to things like pet sweaters, bandannas, food and water dishes, and pet beds. You may also want to sell stickers that pet owners can use to adorn their existing pet accessories. Adding personalization can help you earn even more because pet owners will pay a premium for items with their pet's name on them.
#7: Neckties
A lot of POD apparel is aimed at women, but men enjoy unique apparel as well! Considering that neckties are still popular gifts for Father's Day, it may be a good idea to add a few POD neckties to your repertoire.
The best designs for neckties are small patterns but illustrations can work as well if they're properly placed on the tie. On a related note, many of the same designs and patterns that work well on neckties will also work on small items such as scarves and socks.
#8: Yoga Mats
Yoga is extremely popular and people who love it also love to buy accessories with beautiful designs. Putting your artwork or pattern on a Yoga mat can help you expand into the fitness market.
The wonderful thing about a Yoga mat is that it provides a big canvas for your artwork. You can easily fill a mat with a large print. You can also have fun playing around with pattern placement.
#9: Water Bottles
Carrying an aluminum water bottle has become the norm for many people. It's a way to save money and reduce plastic waste because aluminum bottles are reusable.
On Redbubble, you can put your designs on 10-inch water bottles. They come with a plastic cap. You may also think about creating stickers that are designed to go onto plain water bottles – people will buy those too!
#10: Shower Curtains
If Yoga mats offer a big canvas for your artwork and prints, shower curtains offer a huge one! Just as buying new pillowcases can spruce up your bedroom, adding a new colorful shower curtain can give your bathroom a whole new look.
Your design can be printed on a fabric shower curtain and sold to customers who want to redecorate their bathrooms. On a related note, you can also consider other home décor items such as blankets and comforters.
Conclusion
The world of print on demand products is always expanding and there's no reason you need to stick to the same old products to build your business. The 10 POD products listed here can point you in the direction of a whole new audience!
Do you need help building your POD business? Click here to work with me!