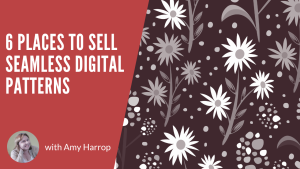 Seamless digital patterns are hugely popular. They can be used in many ways, with some of the most common uses including on digital paper or on fabric and other print on demand products. If you're interested in creating digital patterns, you might wonder where you can sell them. 
The good news is that there are more options than you might imagine. Digital products are everywhere and that means that there are also plenty of places to set up shop online and sell them, including options for selling them as digital downloads or for use on POD products. Here are 6 online marketplaces where you can sell the digital patterns you create. 
#1: Etsy 
Etsy is easily the biggest and most popular marketplace where you can sell your seamless digital patterns. The advantage of selling on Etsy is that customers go there regularly to look for unique products and that means that Etsy sellers have an SEO advantage for their listings there. 
Etsy's fee structure is simple. You'll be charged $0.20 for each product listing and that amount must be paid up front. After that, the only fee you'll need to worry about is the 6.5% transaction fee which is charged on every sale you make. The transaction fee is where Etsy earns most of its money and has been increased from 5% in 2022. 
Etsy sometimes features shops and products in Etsy ads and if your products are chosen, you'll pay a fee for advertising—but only if the ad results in sales. 
#2: Creative Market 
Creative Market is hugely popular marketplace for digital products, including digital paper and patterns. There are thousands of digital products listed and you can set up your own shop where you can feature your products and attract followers. 
Creative Market doesn't charge a product listing fee and shop owners can set their own prices. The only fee that Creative Market charges is a 40% commission, which they collect on every sale you make. For that reason, you'll need to price your products with the commission in mind to be sure you earn enough profit for your sales there. 
#3: Spoonflower 
Spoonflower is a popular print on demand site where customers can choose a pattern to have printed on wallpaper, fabric, or home décor items. Some of the items they offer include pillows, blankets, tablecloths, napkins, sheets, and duvet covers. 
If you decide to sell on Spoonflower, you'll need to link your patterns to specific products. So, you might decide to create a pretty butterfly pattern and link it to sheets, pillows, and blankets. Spoonflower sets the price for each item based on their costs. Any time a product printed with one of your designs sells, you'll earn a flat commission of 10%. 
#4: Patterndesigns.com 
Patterndesigns.com is a unique site featuring millions of digital patterns for sale. While it is not a print on demand site, customers can buy the patterns and connect with one of the company's partners. Some of the partner shops include Magic Textiles, ArtFabrics,  and WallArt.com. The patterns are sold as digital vectors and the licensing of the images is tiered. The highest tier allows customers to use the image royalty-free as many times as they want. 
Patterndesigns.com operates on a commission basis. If you list your patterns with them, you will receive a 30% royalty on every sale. The prices for patterns range from under $3 to $30 or more for unlimited licensing, so you may be able to earn a substantial amount if people like your designs. 
#5: Redbubble 
Like Spoonflower, Redbubble is a print on demand website where artists and creators can list their designs to be printed on an array of products. While some of the products, such as t-shirts and accessories, may not lend themselves to patterns, others—such as blankets, pillows, and shower curtains—are perfect for repeating patterns. 
Redbubble charges a base price for each product listed. As you would on Spoonflower, you'll need to choose products featuring your patterns. On top of the base price, Redbubble adds a standard 20% artist's margin. You can increase or decrease the margin if you choose to do so. 
#6: Fiverr 
Unlike the other sites we've listed, Fiverr is not a site where you can post your patterns as stand-alone products or to be printed on demand. Instead, it's a marketplace where people go to hire professionals, including graphic designers. Even if you have no professional design experience, you can use Fiverr to market yourself as a freelance pattern designer. 
Fiverr got its start as a place where people could go to offer their services for the low price of $5. However, the marketplace has evolved, and many people charge much higher rates for freelance design. There is no listing fee on Fiverr, and you can set any price you want for your services. Any time someone hires you, you will pay Fiverr a 20% commission upon your receipt of the customer's payment. 
Tips for Selling Seamless Digital Patterns 
Let's close with some pro tips for selling seamless digital patterns online. 
Consider selling your patterns in more than one place

. While some of the marketplaces listed here have overlapping audiences, there are many customers who aren't familiar with all of them. You want to put your patterns in front of as many people as possible, so don't be afraid to use several or all of these marketplaces.

 
Don't let the fees deter you

. One of the best things about creating seamless digital patterns is that you can make them once and sell them as many times as you want. Once you get the hang of creating digital patterns, you can make a new one in just a few minutes. The investment in labor is minimal and that means that almost everything you earn will count as profit.

 

Check out your competition

. It's always useful to get an idea of what patterns are already out there and what's popular. Researching what other designers do can also be useful in setting prices, since you don't want to undervalue your designs or price yourself out of the market.

 
Using these tips, you can start listing your unique digital patterns in the 6 marketplaces on this list and create a steady stream of income. 
Do you need help creating and selling seamless digital patterns? Click here!