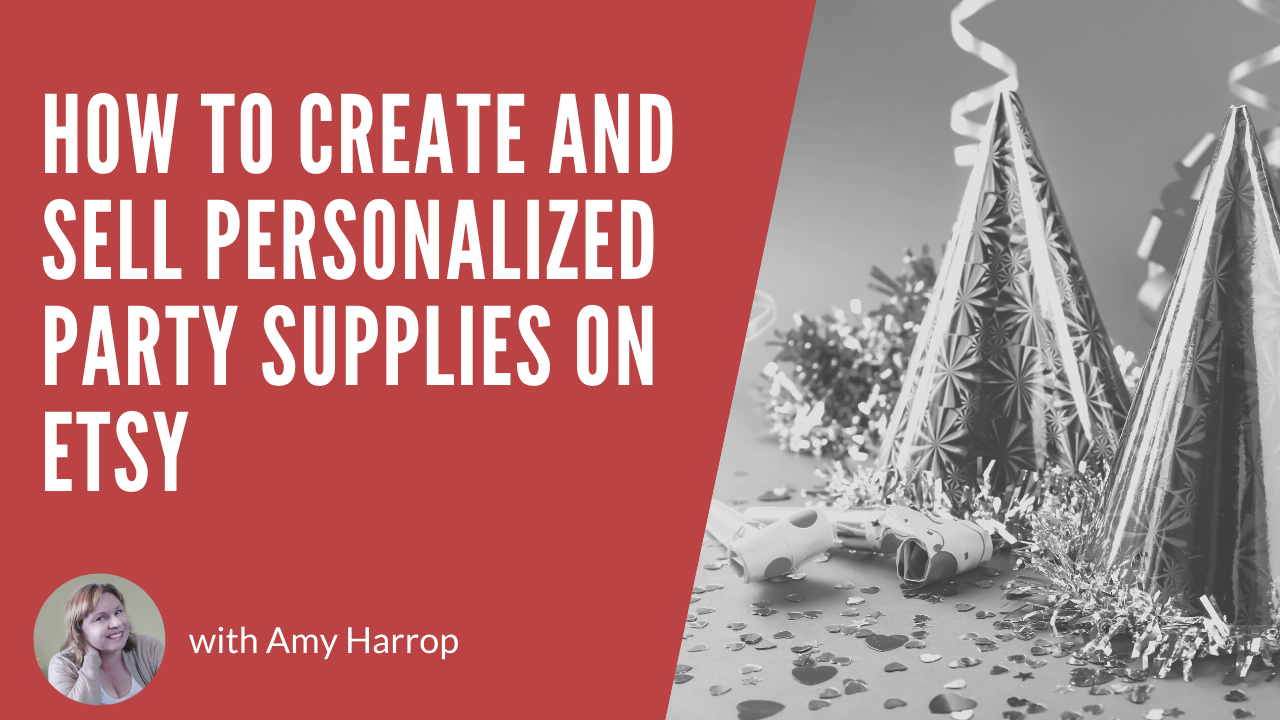 Throwing a party is a lot of work. One way to make any party feel special is to use personalized party products, including invitations, decorations, and even party favors.
The thing I like about personalized printables is that they don't cost any more to make or design than one-size-fits-all products, but they feel special, and customers are willing to pay a premium to get them. Consider this your guide to make and sell personalized party products that Etsy shoppers will love.
Why Should You Sell Personalized Party Supplies?
Before I walk you through the steps to create personalized party supplies, let's review the reasons that the party supply niche is so profitable.
A 2019 survey revealed that the average American plans seven parties a year and spends a little over $200 per party. You can be sure that some of their budget is going to invitations and party décor.
You should also know that the party supply niche encompasses a lot of subniches that offer an endless array of product possibilities. Parties can be for birthdays, national holidays, big life events such as graduation or retirement, or for gatherings that don't have a special purpose beyond gathering with friends and family.
Party supplies are the sixth-most popular niche on Etsy. Considering how many products and niches are represented there, being in the top 10 is a strong indication that a niche will be profitable for anybody who takes the time to design quality products.
Tips for Choosing a Niche
Your first task is to choose a niche. I recommend starting with one and building from there. Here are some examples of popular party supply niches.
Life events. This niche includes things like birthdays, graduations, engagements, weddings, baptisms, anniversaries, and even funerals. Any life event offers opportunities to carve out a niche; for example, you might focus on birthday parties for kids.
Holidays. The year is full of holidays that inspire people to throw parties. Some options to consider include New Year's Eve, Valentine's Day, St. Patrick's Day, Easter, Independence Day, Halloween, Thanksgiving, Christmas, Hannukah, and Kwanzaa.
Just because. People gather for reasons that have nothing to do with a life event or holiday. General party supplies have their place. You could specialize in creating elegant decorations for dinner parties or fun décor for backyard cookouts.
You should choose a niche that inspires you. If you read one of these niche ideas and immediately think of several design options, you should take it as a sign and get started in the niche you've chosen! You can always expand after you've established your shop and products. You may also want to try a niche discovery tool such as Marmalead, which can help you find niches and keywords. It's also useful for competitor research.
How to Create Party Products
Party products are typically not densely written, so with just a few words and some graphics, you can create a new party invitation or place setting in minutes.
I love using Canva to create party products. Even if you opt for the free plan, they have a ton of beautiful templates that are easy to personalize using their drag-and-drop technology. You can also create party products using Adobe Spark, PowerPoint, or even Word if that's your preference.
It's important to note that any template you use must be altered to make the product uniquely your own. The template gives you a framework for the finished product, but you'll need to put some time and creative energy into creating a product that fits your niche and appeals to your target audience. You can use some of these cool AI tools to fast-track your product creation.
The great news about creating party products is that there are plenty of online resources you can use to find free or low cost images, graphics, and fonts to use. Here is a list of some of my favorites.
You may also want to consider sources of vintage materials, including the New York Public Library's digital archive.
Personalization Options to Try
Once you have created your basic product, you'll need to consider the personalization options. You may choose to sell editable PDFs, so customers can enter their own personalization. The alternative is to partner with a print on demand (POD) provider. There are many that offer full integration for Etsy shops. Here are two to consider.
Corjl allows customers to edit and personalize the products they buy. The results typically look better than they would with DIY printing. Pricing starts at $7.99 per month plus $0.65 per product sold.
Templett offers a combination platter of design templates and printing services. The subscription service starts at $29 per month and per-sale charges start at $0.29 per item.
Etsy also offers information about their partners, which you can find here.
Selling Personalized Party Supplies on Etsy
You've created some great-looking personalizable party supplies – what comes next? It's time to sell them on Etsy! Here are some pointers.
Choose a shop name that makes it clear that you sell party products.
Use well-researched keywords in your shop description and in all product descriptions.
Etsy allows up to 10 photographs for each product listing. You should use all 10 whenever possible.
Product images should have a consistent look. You'll need excellent lighting, a neutral background, and a filter that you use on every image. Alternatively, you can use a mockup to create your images.
Your product descriptions should use your most important keywords, so that people who need products like yours can find them.
Make sure that you highlight the personalization options available. You can do that by using keywords with "personalized" in them and by featuring images with personalized versions of your basic products.
Conclusion
Selling personalized party supplies on Etsy is a proven method of earning extra income quickly. With the tips I've provided here, you can create products in no time and before long, you'll have regular income from your shop!
Do you need help creating your Etsy shop and products? Click here to learn how to work with me!