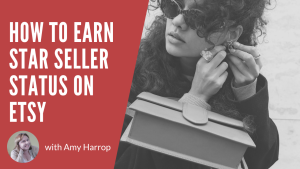 Etsy is undeniably one of the best places to sell digital products, including printables, templates, and POD products. With millions of active monthly users, there's a clear advantage to becoming an Etsy seller. What's even better is doing the work to become an Etsy Star Seller because that designation makes it easy for customers to trust you and buy your products. 
The question is this: what do you need to do to earn Star Seller status and keep it? The process isn't difficult and focuses mostly on customer service. Here are the things you need to know about how Star Seller status works and what you can do to earn it. 
What is Etsy Star Seller Status? 
Etsy Star Seller status is a designation awarded by Etsy to highlight those sellers who provide consistently excellent customer service. If you are designated as a Star Seller, you'll get a badge that displays in your shop to let your customers know. It focuses on these criteria. 
Message response times

. When a customer or prospective buyer messages you with a question about something in your shop, you'll need to reply quickly—within 24 hours—if you want to earn your Star Seller badge.

 

Orders

. Etsy sets a minimum number of orders that any seller must make within the Star Seller review period. 

 

Sales

. In addition to a minimum number of orders, your total sales must also meet the minimum requirements to be a Star Seller.

 

On-time shipping and tracking

. It's essential to deliver products to your customers as quickly as possible to earn your Star Seller badge. (Fortunately, this is an easy benchmark for people who sell digital products!)

 
Customer ratings

. Finally, your average customer review during the evaluation period must meet Etsy's requirements.

 
The other thing you should know about Star Seller status is that sellers must re-earn their badge during each month. Etsy conducts a review on the first of each month using the last three months of shop data. It may take a day or so for your badge to appear. 
What Do You Need to Do to Earn Your Star Seller Badge on Etsy? 
Now, let's walk through the specific benchmarks and metrics you'll need to meet to achieve Star Seller status.  
Orders 
Etsy requires all shops to have at least five customer orders during the review period. Canceled orders do not count toward the requirement.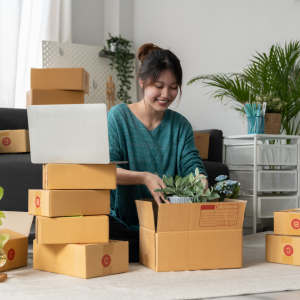 New sellers often require some time to attract enough traffic to get five orders per review period, but this is a benchmark that becomes easy to meet with time. 
Sales 
The sales benchmark can be the most difficult one for people who sell digital products to meet because it's common for digital products to have low prices compared to handmade products. Etsy requires a minimum of $300 in sales per review period to earn the Star Seller badge. 
Etsy has taken the time to translate the sales requirement into multiple currencies, so if you're in the UK you would need £200 in sales and if you're in the European Union, you would need €250. It may take some time to get enough shop visitors to meet the sales requirement. 
On Time Shipping and Tracking 
Etsy customers have high expectations when it comes to shipping and delivery of products. Every seller needs to include a processing time in the product listings they create. To earn Star Seller status, 95% of your orders must be shipped in the time you specify. 
With printable products, you'll need to list your products as Instant Downloads and advise your customers that they can download as soon as their payment has been confirmed. It's rare for people who sell digital problems to have difficulty achieving Etsy's benchmark for shipping. 
Speedy Messaging 
Responding to customers' messages is an essential element of good customer service. To earn Star Seller status, you'll need to respond to 95% of all messages you receive within 24 hours of receiving them. 
To make sure you meet this benchmark, you'll need to be diligent about logging into your Etsy account and checking messages daily. You may want to set a reminder to minimize the chances of taking too long to reply to your messages. 
Customer Ratings 
Customer ratings are extremely important to Etsy sellers. Many buyers will look at a shop's overall average rating before considering any of its products. To earn your Star Seller badge, you will need an average rating of 4.8 stars (out of 5) within the review period. 
The good news here is that if you meet the other criteria, your customers will be satisfied and likely to reward you with a five-star rating. 
Adherence to Etsy Rules 
The final requirement to earn Star Seller status is adherence to all of Etsy's House Rules and Terms of Use.  
You should make sure to read both policies and adhere to all requirements if you want to earn your Star Seller badge. 
Can You Check Your Star Seller Progress? 
Whether you are hoping to earn Star Seller status for the first time or just want to see how you're doing in the current review period, you can do so easily by logging into your account and going to your Shop Manager dashboard.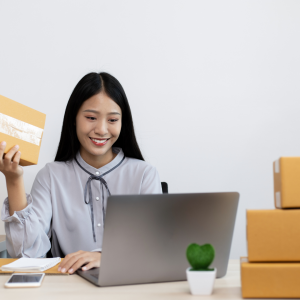 There, you'll see options to view the Current Review Period and the Last Review Period. You can see your progress toward each of the benchmarks and adjust as needed to improve your chances of earning that badge. 
Quick Tips to Improve Your Chances of Becoming a Star Seller 
Here are a few quick tips to help you earn your Star Seller badge on Etsy. 
Create a clear return policy that lets customers know exactly what to expect if they're unhappy with a product or can't use it for some reason.

 

Set up an automated thank you coupon to send to your customers' email after they complete a purchase. Sending coupons increases the likelihood that they'll return to your shop and buy from you again.

 

Keep your tone positive when you reply to messages, even if you feel a customer is being difficult. You're more likely to get a positive review if you project positivity than if you're negative or argumentative.

 
Following these tips will help you get to Star Seller status as quickly as possible—and retain your status after every new review period. 
Make Your Printables Shop Successful 
Earning your Star Seller badge can help you attract more customers to your Etsy shop and make more sales. 
Do you need help turning your Etsy shop into a success? Click here to order Popular Printables Monthly, my guide to discovering the hottest, most popular Etsy printable niches!