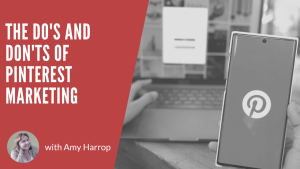 Pinterest is one of the most popular social media sites for marketing printable, print on demand, and digital products. People who use Pinterest love to collect inspirational and useful images, many of which involve crafting, parties, and other topics. 
Best of all, people who use Pinterest are highly likely to buy products that they find when they scroll their Pinterest feeds. 85% of Pinterest users say they use Pinterest to plan new projects, and 75% of weekly Pinterest users told researchers that they are always shopping when they're on Pinterest.  
As you can see, Pinterest has the potential to help you increase traffic to your website or shop and to increase your profits at the same time. Here are some of the most important Dos and Don'ts of Pinterest marketing for you to keep in mind. 
Do: Create High-Quality Images of Your Products 
Arguably the most important DO for Pinterest marketing is to make image quality a priority. While you can and should use hashtags on Pinterest, most of the people who favorite your Pins or add them to a board will do so based on the image itself. 
One of the best things about digital products is that you don't need to take photographs to come up with high-quality images. Still, you should format your images properly and create a standard appearance for your product photos that helps to solidify your brand. 
Don't: Pin Only Your Own Products 
Pinterest is a social media site, first and foremost, so don't lose sight of its social aspects just because you also happen to use the site to market your products. You'll get the best results if you participate in groups and pin content from other creators. 
For example, you might create boards based on seasonal themes and include your products alongside beautiful seasonal images and articles related to your content. You could pair compelling winter or holiday images with your products and articles about entertaining for the holidays. Using this method ensures that your content will capture your audience's interest and hold it. 
Do: Use Rich Pins to Make Buying Easy 
Pinning your products may get them in front of prospective customers but it won't necessarily entice them to buy. To do that, you need to streamline the buying process by making it as easy as possible for people to click your products and spend their money. 
Rich pins are pins that include detailed information about products. Some of the information they contain includes basic product information, pricing, and availability. Best of all, they automatically synch information from your website to Pinterest. Your product must be in stock for the Rich pin to work, but the great thing about selling digital products is you don't ever need to worry about running out of inventory. 
Don't: Forget Who Your Target Audience Is 
Pinterest is the most female-centric social media site. As of January, 2022, 76.7% of Pinterest users were female and only 15.3% were male, with the remaining 8% unidentified. It may be tempting to repurpose content from Facebook or Instagram for Pinterest, but it's important not to forget who's going to be seeing your Pins and buying your products. 
In other words, don't be afraid to target your Pins directly at the women who are most likely to buy them. Printables and digital products are far more popular with women than they are with men, so in most cases, the audience on Pinterest should align closely with your target audience overall. 
Do: Take Advantage of Community Boards 
On Pinterest, you have the option to create personal boards around any theme you choose. One of the most underutilized features is the community board, which allows multiple people to contribute images and ideas to the same board. 
If you want to dip a toe into the world of community boards, you can begin by joining a few to see how they work. Make sure to read the community rules and adhere to them. Once you get comfortable, you can and should start a community board of your own. Community boards can help you find compelling images to pin on your own boards, but they also will allow you to put your product images in front of a whole new audience. 
Don't: Be Inconsistent with Posting 
When someone follows you on Pinterest, they do so because they like the content you've posted and want to see more like it. Your best bet is to create and stick to a regular content posting schedule where you post on the same days and at the same times. 
On a related note, keep in mind that you can't make up for a lack of posts by bombarding your followers with posts after a slow period. Doing so will likely annoy them and may even result in a loss of followers. You can use a social media management tool to set up content in advance, so you don't need to worry about missing a scheduled post when you're busy. 
Do: Use Secret Boards 
It's not a good idea to post empty or partially full boards on Pinterest. Because you're marketing products, you need to put forward a professional appearance at all times.  
Instead of posting an incomplete board, plan your boards by using a secret board to collect images. When your board is complete, you can post it and treat your followers to an immersive experience that will entice them to buy your products. 
Don't: Use Too Many Hashtags 
You can and should use some hashtags on Pinterest, but keep in mind that hashtags don't work the same way on Pinterest that they do on Instagram or Twitter. Overdoing the hashtags is more likely to work against you than it is to help you. 
Stick to just a few hashtags that will help your audience find your pinned images. Paring down your selection will attract followers. 
Pinterest marketing isn't complicated but it's important to avoid the Don'ts listed here and embrace the Dos. If you do that, you'll find your audience and see your sales increase as Pinterest users find and fall in love with your products. 
Do you need assistance increasing sales on Pinterest? Click here to learn about my products!