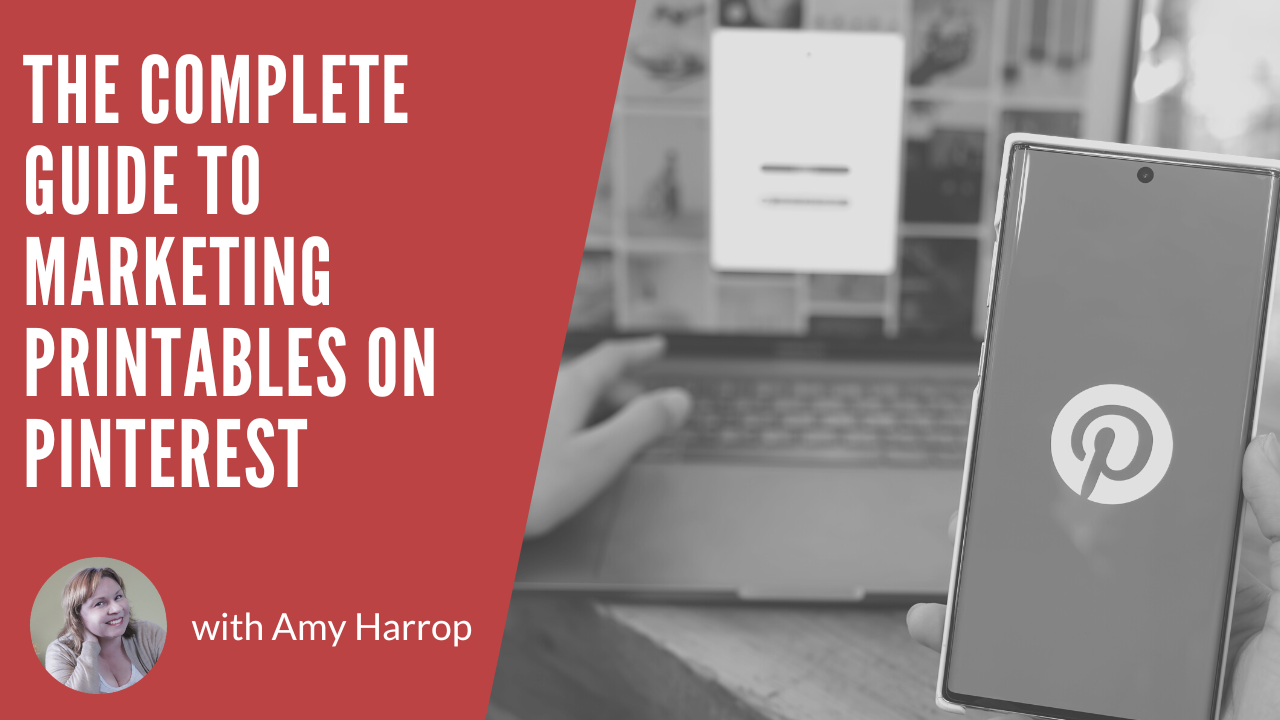 Pinterest might not get as much attention as Instagram, but that doesn't mean you should ignore it if you're looking for effective ways to market your printable products online. Pinterest users are highly engaged, eager to find new products, and have the disposable income to buy what you're selling.
With that in mind, I've put together this comprehensive guide to marketing printables on Pinterest. I've included information on how to set up a Pinterest business account, what to do to make your printables pop, how to write effective headings and product descriptions, and pointers for paid Pinterest advertising. Here's what you need to know.
Pinterest Marketing Statistics
Let's begin with some key Pinterest statistics that demonstrate how useful it can be as a marketing platform.
Pinterest has 341 million active daily users as of the first quarter of 2021.
Shopping engagement on Pinterest grew by 20% in 2021.
75% of Pinterest users who visit the site weekly say that they're "always shopping."
Advertisers can potentially reach more than 200 million people on Pinterest.
60% of Pinterest users are women, and since women are the people who tend to buy printables it stands to reason that Pinterest would be a good place to find people in your target audience.
How to Create a Pinterest Business Account
If you already have a personal Pinterest account and want to set up a Pinterest Business Account, you can do it one of two ways. The first is to link it to your personal Pinterest account in the same way you may have linked your Facebook business page or Instagram page to your personal account. The second option is to convert your personal account to a business account.
If you don't want a personal Pinterest account or you would prefer to have it separate from your primary account, you can create a new account by entering an email address. (Note: it must be a different email address than the one you used for your personal account if you have one.)
Here are the steps to follow.
Go to the Pinterest website or app.
Click Sign Up at the top right-hand side of the screen.
Click Create a Business Account.
Enter the email you wish to use for your account.
Create a password and enter your age.
Click Create Account.
Build your business profile, making sure to complete all fields.
Click Next.
Complete the fields to Describe Your Business.
Click Next.
Following these steps may take only a few minutes. After you've finished, you can navigate to any page to start or click the X icon to go to the new Pinterest account for your business.
How to Create Consistent and Appealing Product Images for Pinterest
Once you have created your new Pinterest business account, the next step is to create images to Pin. Here are some pointers to help you create consistent and appealing product images to share.
Use the same background for every product image, preferably something white or neutral colored.
Keep your brand in mind. Whether you sell products on your own website or an eCommerce site such as Etsy, you want to use the same branding—including colors and fonts—that you do elsewhere on the web. This will help you to create a consistent brand image.
Use a product mockup template to ensure that your images are consistent.
For bundles, make sure to create a separate image for each element of the bundle, plus an image that showcases the entire bundle.
Use overlays and transparencies to display your brand or logo.
Put your logo in any corner except the lower right. If you put it there, it will be covered by the Pinterest logo.
Use Rich Pins to include relevant information about your products, including the price.
Your logo shouldn't interfere with the image, which is why I recommend using a transparency or overlay. Keep it subtle. It should be visible but not detract from the primary image.
Tips for Writing Compelling Product Descriptions
Just as important as creating compelling and attractive images for your products is writing an engaging description. You'll need both a compelling heading for each Pin and a description. Here are some requirements to keep in mind.
First, your Pin heading may have up to 100 characters including spaces. You should keep that in mind and use your most important keywords at the beginning of your heading, so that they display when your Pins show up in a list of search results.
Second, your Pin description may have up to 500 characters. However, only the first 50 characters will display in the search results, so focus your attention on making the opening enticing to the people in your target audience.
Third, make sure to use your most important keywords. How will people find your products on Pinterest? For example, if you want to highlight a printable wedding planner for planning a wedding on a budget, your keywords might include the following.
Printable wedding planner
Budget wedding planner printable
Printable budget wedding planner
Printable budget planner for weddings
You get the idea. You want to give the people in your target audience the best possible chance of finding your product—and buying it!
How to Use Promoted Pins to Sell Your Products
Promoted Pins are ideal if you want to highlight important products. They work in the same way as Promoted Tweets or Facebook posts. You can choose an audience to target and pay based on the number of impressions your Pin gets.
You can create and manage Promoted Pins using the Ad Manager tool. You can choose from several ad formats, including Static, Carousel, Video, Max Video, and Collections. Pinterest provides a list of ad objectives and makes suggestions about which formats are best suited for each. You can find the list here.
Once your ad is live, you should monitor the results. If you decide an element of the ad isn't working, you can change it. Your best bet is to change only one element at a time, so you can examine the results before testing other changes.
Conclusion
Marketing your printables on Pinterest gives you the opportunity to connect with people who are comfortable buying products they see online and who are interested in the specific products you're selling. Pinterest's robust audience-targeting tools make it easy to put your Pins in front of the people who are most likely to want your products.
Do you need help promoting your products? Click here to learn how to work with me!