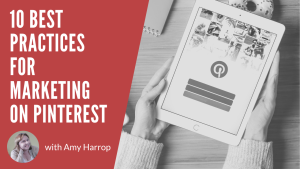 Pinterest isn't the largest social media site, but it is one of the best places to market digital products such as printables and templates, as well as POD products. With its focus on visuals and its large audience of monthly users who are eager to buy products they see featured in Pins, it makes a lot of sense to set up a Pinterest business account and take advantage of the site's marketing features. 
Whether you're new to marketing on Pinterest or have been doing it for a while, it's necessary to understand the practices that will get you the best possible results for the money you spend on marketing. With that in mind, this post will cover the benefits of marketing on Pinterest plus 10 best Pinterest practices to help you take your marketing to the next level. 
What Are the Benefits of Marketing on Pinterest? 
When you create a Pinterest business account and market your digital products there, you will gain some significant benefits. Here they are. 
Increased brand awareness

. When people see your products on Pinterest, they'll learn about your brand and remember it. Using the same branding you use in your Etsy shop will make your brand memorable.

 

Increased traffic to your shop

. Pinterest marketing allows you to redirect shoppers directly to your Etsy shop or your personal website. When they can click on a product and buy it easily, you will see more traffic to your shop and more sales as a result.

 

Targeted advertising

. When you promote Pins and do your marketing on Pinterest, you'll be reaching an audience of potential customers who are ready and eager to buy your products.

 

More customers and sales

. When people search for items on Pinterest, they are almost always doing an unbranded search, meaning that they're not looking for one particular brand or product. Marketing on Pinterest allows you to increase your reach by putting your products in front of a large audience.

 
Marketing on Pinterest is both affordable and effective. Dedicating some of your marketing budget to reaching potential customers on Pinterest is an effective way to increase your sales. 
10 Best Practices to Make the Most of Pinterest Marketing 
Pinterest marketing isn't complicated, but it's important to know what the best practices are to make sure you get the biggest possible bang for every dollar you spend on marketing. 
#1: Familiarize Yourself with Pinterest's Pin Specs 
Like any other social media platform, Pinterest has created a set of specifications that tell users what is required in terms of image sizes, resolution, video formats, and a host of other things. You should make sure you understand the specs before you start marketing on Pinterest. You can read about them here. 
#2: Use a Vertical Aspect Ratio 
82% of all Pinterest users use the Pinterest mobile app to view their feed and share Pins. For that reason, we recommend using a vertical aspect ratio for both organic Pins and ads. Doing so will ensure that mobile users get an optimal experience and see your images and videos as they're intended to be viewed.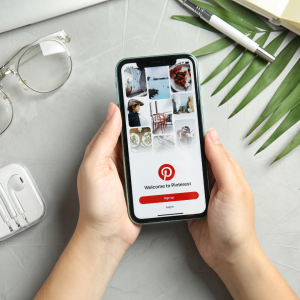 #3: Incorporate Consistent Branding in Your Pins 
One of the biggest benefits of marketing on Pinterest is that it can help you build a consistent and recognizable brand. One best practice that can help you with this is to incorporate your branding into your Pinterest images by using overlays to display your logo and using the same colors and fonts that you use in your shop and on your website. That way, when people click on your product, they'll see a consistent image when they're redirected to your product listing. 
#4: Encourage Your Audience to Save and Share Your Pins 
It's customary practice to include a call to action in an ad or promotion, but you should also include one in your organic Pins. Encouraging the people who see your Pins to save and share them is a fantastic way to put your products in front of a new audience, thus increasing your shop traffic and sales. 
#5: Optimize Your Pin Copy 
The copy you include with your Pins can do a lot to help people discover your products. Pinterest allows users to add a title with up to 100 characters and a Pin description with up to 500 characters. Your Pin copy offers you the opportunity to include your most important keywords to help people find and buy your products. 
#6: Use Hashtags on Your Pins 
Like Twitter and Instagram, Pinterest allows users to add hashtags to their Pin descriptions. Using hashtags not only makes it easy for users to find your Pins on Pinterest, but it can also help them find your content when searching on Google. Make sure to use relevant hashtags and keep them simple for the best results. 
#7: Include Your Business Logo 
It's important to include your business logo when you Pin your products. You can include it as an overlay on an image. Make sure to put it in a corner where it won't impede your audience's ability to see the full image of your product. 
#8: Pin Other People's Images 
When you're using Pinterest to market your products, it may be tempting to Pin only what you create—but that would be a mistake. Instead, find Pins that are related to what you're sharing and selling. For example, if you're Pinning wedding printables, you might also Pin articles about wedding planning, pictures of flower arrangements, or a list of wedding menu ideas. 
#9: Create Compelling Pinterest Boards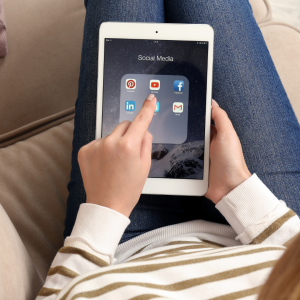 Pinterest allows all users, including those with business accounts, to create boards to collect content from other users and share their own. Any marketing you do should include the creation of boards that feature your products and other relevant images. It's important not to forget that Pinterest is a social media site, and you'll get the best results if you behave like other members of the community. 
#10: Check Your Links 
Pinterest marketing is designed to redirect people who click your organic Pins or ads to your website or shop. Since that's the case, make sure that you always check your links to be certain that they work as intended. If someone clicks a link that doesn't work, they'll go looking for one of your competitors' products instead of buying yours. 
Kick Your Product Marketing into High Gear on Pinterest 
Pinterest is a wonderful place to get your printable products in front of a large audience of people who are ready to buy what you're selling. Using the 10 best practices we've listed here will help you get the best possible results from your Pinterest marketing. 
Do you need help creating high-quality visual products to sell in your shop? Click here to get the details about my guide to creating products using public domain images!