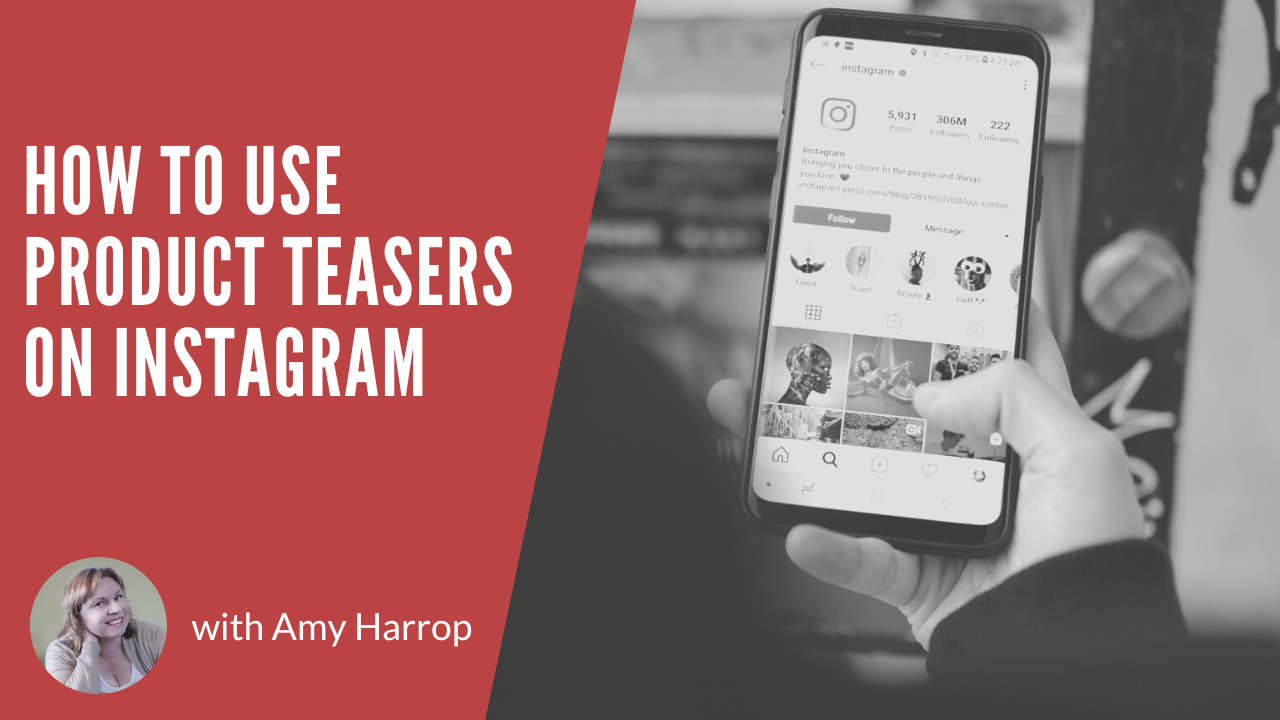 Marketing printables or print on demand products on Instagram can help you drive traffic to your online shop and increase your sales. And while there's nothing wrong with posting straightforward product pictures or videos, there's something to be said for creating a little mystery and excitement around the release of a new product.
That's where product teasers come in. A teaser allows product creators to build hype for an upcoming product release and give Instagram followers a reason to check back in with you for updates. Here's what you need to know about using product teasers on Instagram.
What is a Product Teaser?
Let's start with a definition. A product teaser is a post—either a photo, a video, or an Instagram story—that teases the introduction of a new (or in some cases, updated or seasonal) product.
The idea of a teaser campaign is that it should begin a week or more before the launch of a new product. Its purpose is to build excitement for the new product by letting people know that it's coming and when it's coming, and by providing tantalizing bits of information to create intrigue.
What Are the Elements of a Successful Product Teaser?
Before I go through some ideas for how to create and use product teasers on Instagram, here are some key elements of an effective product teaser.
A little (but not too much) information. A successful product teaser might incorporate cropped pictures, emoji, and other elements that point in the direction of what the product might be without giving it away.
A mystery. It's okay (and even recommended) to make your product teaser a little cryptic. It adds to the fun!
A countdown. Your product teaser should let your audience know when to expect your new product. It can be vague (Coming in July) or specific (Arriving on July 16th.) Including a countdown builds excitement and anticipation—and it also gives your audience a reason to check back in with you.
A call to action. A teaser campaign can be an effective audience-builder, too. When you tease your product, ask people to subscribe to your email list or share your post. You'll expand your audience and build excitement for your new product at the same time.
We'll talk more about each of these elements and how to incorporate them into your Instagram product teaser in the next section.
How to Create a Product Teaser on Instagram
Here are the steps to follow to create an effective product teaser on Instagram.
Know Your Target Audience
For any product launch, it's essential to know your audience because you'll need to target any paid promotions to ensure that the right people see them.
Fortunately, targeting is easy on Instagram where you can use both demographics (age, gender, marital status, etc.) and psychographics (interests) to connect with the people who are most likely to buy your products.
Set a Goal for Your Product Launch Campaign
With any marketing campaign, even a teaser campaign, it's essential to have a clearly-defined goal that you can measure. For a teaser campaign, the goal might be any one of the following.
Attract X new subscribers to your email list
Grow your social following by X%
Increase traffic to your online shop by X%
Beat your previous sales record for a new product
Setting a goal will help you to design your teaser to get the best results.
Create a Timeline for Your Product Launch
Your product launch timeline will play a key role as you design your teaser campaign. In most cases, you'll want to run your teaser campaign for at least a week before you launch your product. You may choose to run it for several weeks or a month.
Your timeline should spell out when each element of the campaign will roll out in relation to the new product being available.
Create a Creative Product Teaser
Your product teaser on Instagram can be a single image, multiple images in a carousel, a short video, or part of your Instagram Story. If your product is a single printable item, then you can and should keep it simple with an intriguing image or a video.
Keep in mind that your teaser should tantalize your audience with the possibilities of what your new product could be, get them excited to buy it, and ask them to do something to stay informed. As I mentioned above, a teaser campaign is an effective way to grow your social following or build your email list.
Promote Your Product Teaser
Your product teaser should be something that you share with your existing followers and promote to attract a new audience. Instagram's algorithms may prevent some of your followers from seeing your content, particularly if they haven't interacted with you much. It's necessary to spend a little money to make sure your teaser gets the attention it deserves.
Remember that on Instagram, you can promote any of these formats.
Image
Carousel
Reel
Story
This versatility means that you have plenty of options and can make your teaser whatever you want it to be. To promote it, you'll need to create a target audience and set a budget.
Measure Your Results
After you boost your post, reel, or Story, you'll need to monitor the results to make sure that it's getting the reaction you want. The good thing about monitoring from the start is that you'll have an opportunity to switch things up if your teaser isn't performing the way you thought it would.
Your metrics will include information about views, clicks, shares, and comments. You will receive demographic information about the people who interact with your teaser as well as the times of day they viewed it. You can use all this information to fine-tune your campaign if you need to.
Conclusion
Creating a compelling teaser will help you connect with your target audience and have a successful product launch while also building your social following and target audience. You'll be able to leverage each success into an even bigger product launch the next time.
Do you want advice about your next product launch? Click here to learn how to work with me!