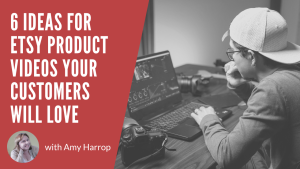 Etsy is one of the top online marketplaces for selling digital products, including SVGs, printables, templates, patterns, and designs. I love it because Etsy makes it easy to incorporate lots of hashtags and images to show your products to their best advantage and inspire people to buy them. 
One element of Etsy marketing that doesn't get enough attention is the product video. Creating product videos can add a new dimension to your product listings, allowing you to inspire visitors to your shop and get more sales and followers. Here are 6 ideas for Etsy product videos that will help you get the results you want. 
What Are the Qualities of an Effective Etsy Product Video? 
Before you create your first Etsy product video, it's essential to know which qualities will help your video grab your audience's attention and inspire them to add your products to their cart. Here are some of the things you should focus on when making your videos. 
Mood

. You want your videos to appeal to your target audience. The best product videos connect with audiences. You can do a lot to tell people about your products based on how you shoot your video, whether that means soothing music and a slow pace or something that feels more like a trending music video.

 

Emotion

. Mood and emotion go hand in hand. How do you want people to feel after watching your video? They should feel something! Some emotions that can work well for product videos include excitement and relief.

 

Lighting

. Whichever type of video you decide to make, good lighting is an absolute necessity. You may need to invest in a ring light to ensure that your products look their best.

 

Colors

. Ideally, your Etsy product video should use color in a way that conveys your brand and shows the product being featured to its best effect.

 
Length

. Etsy product videos must be between 5 and 15 seconds long, so you may want to shoot something longer and then edit it down to meet the specifications.

 

Format

. Etsy allows videos in the following formats: MP4, MOV, FLV, AAC, AVI, 3GP, and MPEG.

 

Aspect ratio

. Keep in mind that a lot of Etsy users shop on the Etsy mobile app, so you're better off going with a vertical aspect ratio for both the video and your thumbnail.

 

Resolution

. Etsy says the ideal resolution for product videos is 1080px.

 
Sticking to these guidelines and thinking about what you want your video to convey will help you create appealing and effective Etsy product videos and increase your sales. 
6 Etsy Product Video Ideas to Try 
Without further ado, here are 6 new ideas to try for your next Etsy product video. 
#1: The Bundle Slow Pan 
Our first suggestion would work well if you were selling a printable bundle with a lot of items in it. Even if you use all the available images in your product listing, it can still be difficult for shoppers to see the full range of what's included. 
You can make this type of video by taking printed versions of your products and laying them out. Use your camera to pan slowly across the items to give viewers a full preview of what they'll be getting if they buy your bundle. 
#2: The Behind the Scenes Video 
With digital products, it may be helpful to give visitors to your shop an idea of how you create products to sell. You can use screen capture technology to record part of your process, and then edit it to make it compelling.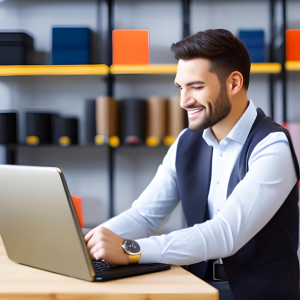 This idea could work well for everything from patterns to printable planners and stickers. Your audience may feel more connected to your products if they get to see a little bit about their creation. 
#3: The How-To Video 
One of the challenges of selling digital products is that some buyers may have difficulty with technical issues after they download your files. Creating a how-to video that answers some of the most common questions that people have is an effective way to overcome buyer objections and make more sales. 
Two specific ideas for how-to videos would be a video showing people how to print your product or showing them how to personalize something that they've downloaded that's created to be editable, such as birthday party place cards or greeting cards. 
#4: The Suggestion Video 
When you're selling digital products, it may be difficult for some users to know what to do with what you're selling—particularly if they're making their first digital purchase or just getting started with something like bullet journaling. 
With a suggestion video, you can demonstrate some of the ways that people can use your products. For example, you might show people how to use journal stickers or how to incorporate one of your patterns into a piece of artwork. 
#5: The Features Highlight Reel 
If you've done a good job with your product listings, the features of your products should be easy to find. But not everybody reads the full product listing—and that's where an Etsy product video can fill in the gaps. 
A short video is the perfect place to show off the different features of your product and may be particularly useful for product bundles. For example, if you were selling a printable wedding planner, you could show how to use each type of page, including lists, schedules, budgets, and more.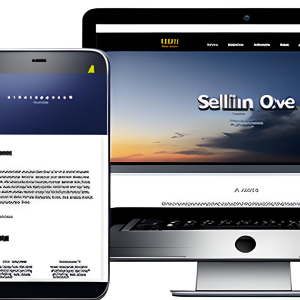 #6: The Stop Motion Video 
Stop motion videos can be a fun way to add a dynamic edge to your digital product listings. While it might seem complicated to try something like stop motion, it doesn't have to be difficult. You can take a string of pictures showing each step of a process, and then edit them together.  
We suggest using a stop motion video to show the pieces of a printable product coming together or illustrate different ways to use the products you sell. You can have fun by adding props or captions to make your video entertaining to watch. 
Take Your Etsy Shop to the Next Level with Product Videos 
Even if your Etsy shop is doing well, you can improve the customer experience and increase your sales by adding entertaining and informative product videos. The 6 ideas we've featured here could all work for digital products and help you make more sales—and more money! 
Do you need help coming up with ideas for printable products? Click here to get Popular Printables Monthly, my monthly program where you'll get ideas for hot printables niches and products with most of the work done for you!