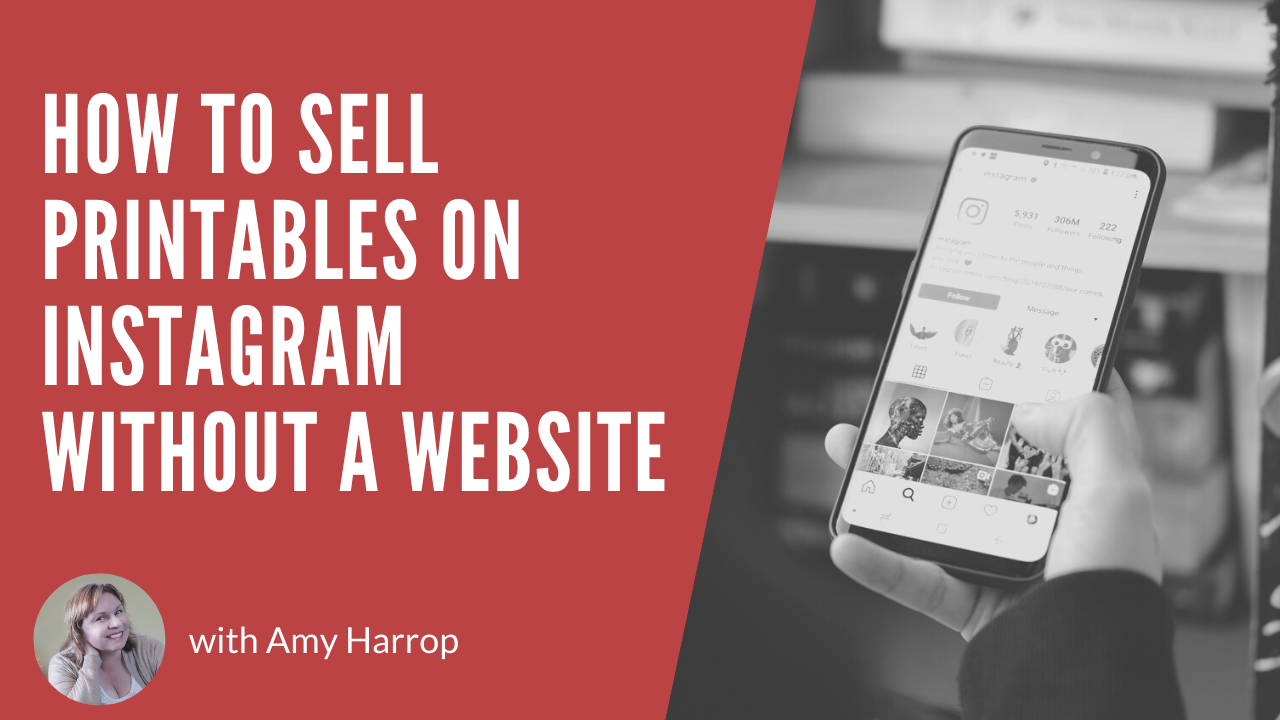 One of the primary barriers to selling products online is finding a place to sell them – an online shop. Some people choose to create a website and sell products directly there, while others choose to sell on Etsy or Shopify or Amazon. But what should you do if you want to sell products without a website?
The good news is that there's an easy way to do it and one that's particularly likely to be successful if you already love Instagram and have a following there. Here's what you need to know to sell the printable products you create on Instagram even if you don't have (or want) a website of your own.
#1: Convert to Instagram for Business
The first step is to convert your Instagram profile to a business profile if you haven't already done so. With Instagram for Businesses, you'll get access to an array of features that you won't get as a regular user, so don't skip this step.
You can follow these steps to convert to a business account.
Log into your Instagram account.
Click the three horizontal bars in the top right corner to access the menu.
Select Settings.
Select Account.
Click "Switch to business account."
Complete your business profile. Be sure to add your business category and other relevant business information, including contact information.
If you have a Facebook business page, link it to your Instagram business profile.
Following these steps will ensure that anybody who views your Instagram profile will understand your business and what you sell. It will also give you access to Instagram Insights, where you can view and analyze your follower statistics to understand how people are responding to your posts.
It's important to note here that you must be in an available market if you want to sell products from your account. The United States and Canada are both eligible. You can find a full list of available markets here.
#2: Create a Facebook Catalog
The next step is to create a product catalog on Facebook. Since Facebook and Instagram are both owned by Facebook, you can create your catalog there and share it on Instagram.
You'll start by going to the Commerce Manager page on Facebook. From there, you'll follow these steps to create your catalog.
Click Get Started.
Click Create Catalog, and then click Get Started again.
If you have already created at least one catalog, you'll click Add New Catalog instead.
Select the type of product you'll be selling and click Next.
Select Upload Product Info. (You also have the option of linking to a Facebook partner, but since we're talking about selling on Instagram, use the Upload Product Info button.)
Select a Business Manager Account to link to. (This can be your business profile or your personal profile.)
Select a name for your catalog.
Click Create.
Once you have created your catalog, you'll need to add products. There are three ways, but one requires a website. You can choose to manually upload your products via Commerce Manager. If that doesn't appeal to you, the alternative is to use a spreadsheet. You can find detailed instructions for each method here. The final step is to link your Facebook catalog to your Instagram.
#3: Get Your Instagram Shop Approved
We've already noted that you need to be in an available market to sell printables on Instagram. You will also need to meet these requirements.
Comply with all Instagram policies.
Provide accurate information and follow best practices.
Demonstrate trustworthiness.
You can read more about these requirements here. The time frame for shop approval is generally between one day and two weeks. Most people will not need to wait two weeks to be approved but the key takeaway here is to be patient, since all shops must be reviewed before going live.
#4: Feature and Tag Your Products in Your Shop
After you have created your catalog and been approved to sell products on Instagram, it's time to start sharing them with your followers. You can follow these steps to do it.
Begin by tapping "Tag Products" to open the Instagram tagging menu. Then, choose the image you want to post and add tags to. You'll need to tap each item individually as you tag it to ensure that they are properly identified.
Next, you'll select a catalog and search it to find the products you want to tag in your image. Instagram allows users to tag up to 5 products in a single image, or up to 20 products in a multi-image post. While you may choose to tag only one product, there are benefits to grouping products that are commonly purchased together into a single post.
#5: Boost Your Product Posts
The final step is to boost your product posts to ensure that your followers (and others in your target audience) see them. That means you'll need to choose your audience carefully based on their interests and why they might be looking for your products.
You should know that customers have three ways to pay for your products on Instagram. They can use a credit or debit card, pay with their PayPal account, or use Facebook Pay. Facebook Pay is available only for products with the "Buy Now" and "Add to Cart" options on the product page.
As you boost posts, you should make sure to track your clicks and sales using Instagram Insights. Your statistics will help you learn the best times to post and to measure the performance of your boosted posts and whether they are inspiring people to buy your products.
You can always add new products to your catalog to increase your sales. You may need to engage in some trial and error to figure out the best targeting for your products.
Conclusion
Selling printables on Instagram is easy and, even if you pay to boost your posts, it's affordable. You can do it without a website – and if your business grows, you can add a website at any time you choose.
Do you need help launching your printables business? Click here to learn how to work with me!